Restaurant Management Software
The restaurant management system market size was $3.6 billion in 2020, and the number is expected to reach around $7 billion in 2025, according to Grand View Research, the leading US-based market intelligence platform. This tells us that the industry is growing as more and more restaurants feel the need to invest in similar solutions.
As a restaurant owner, are you still using Excel sheets? Perhaps you're using a simple, even outdated, POS system to record your sales orders and calculate revenue. Have you reached the point where you started to notice gaps in your restaurant management system and think you can improve the margins without selling more?
Whether you are choosing restaurant management software for the first time or looking for a different solution, we recommend you check out the comprehensive guide we've put together for restaurant entrepreneurs just like you.
benefits of using a restaurant management Software
 1. Staff Timesheets and Rota Planning
Gone are the days when restaurant owners and managers had to spend precious time on Excel spreadsheets, staff rota planning, clocking in and out times, rest days, holidays, and sick days.
Software for restaurant management will automatically update and is a fantastic way to maintain your staff timesheets and rota planning as a cloud-based system that you can easily access and share.
2. State-of-the-Art Inventory Tracking
As a restaurant owner, even working beside your head chef, tracking all the items required for each and every dish is both time consuming and cumbersome without the use of software for restaurant management. Apart from the fact that your restaurant stores may have a deficit of some items and an excess of others to be used in good time, there are suppliers with whom you need to order in advance, especially for items in high demand or seasonal, such as certain fresh fruits and vegetables or seafood. Restaurant management software fully supports the tracking of all items and saves your restaurant business both time and money.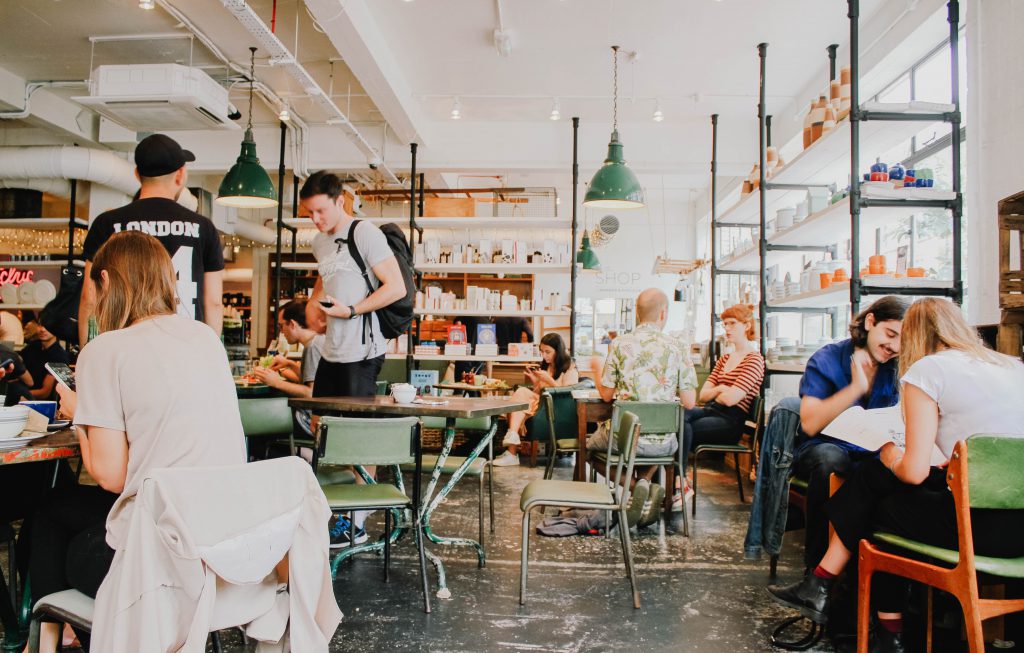 3. Dine-in Reservations and Floor Management
During peak times when your dine-in restaurant may be extra busy with regular as well as new guests, even small groups, who haven't made a reservation, managing the floor can be a challenge for your FOH team.
A customized restaurant management system will allow you to view your floor plan, seating capacity, guest arrivals and so on. As new guests arrive, you can quickly and efficiently see them to a table. This floor management team will satisfy your newly arrived guests but drastically reduce the risk of losing their return custom had you not been efficient with your floor management. We can call this damage limitation.
4. Countless Menu Options
Now you can update your menu as frequently as you like, for example, with daily specials, seasonal specials, vegetarian food, gluten free options, discount offers, a breakfast, lunch, or dinner promo, a new signature dish, a menu for kids, limited edition desserts, and beverages.
5. Organize and Consolidate Online Orders
Most restaurants are using an online order delivery platform such as Careem, Deliveroo, Noon, Munch, Talabat, Lunch On, Eat-Easy, Clean Eat Me, DoorDash, ChowNow, Caviar, Seamless, PostMates, and Delivery.com – the list is endless, depending on the location of your restaurant across the globe.
6. Offer A Wide Selection Of Payment Options To Your Customers
A restaurant management system should provide payment options such as credit, debit, and cash. However, more customers are moving towards an EMV payment method for convenience and security as payment technology strides forward. Compatible restaurant terminals enable card dipping for chip and PIN or chip and signature authentication for popular secure payment methods such as Apple Pay, Android Pay, and so on.
7. Live Order Tracking and Updates
An out of date POS system will provide for printing out and placing orders for the kitchen. This type of process doesn't provide for order updates such as menu item changes or an additional order from the same customer. Neither does this method allow you to track the food preparation process, communicate with your head chef, or make any amendments whatsoever because, quite simply, the order was printed out and handed over to the kitchen. In effect, you've let that order go, and your front of house team is now waiting for the packaged food delivery order to come out of the kitchen.
8. Boost Your Restaurant Efficiency
Our comprehensive guide details the key benefits and importance of a restaurant management system and talks about so many amazing performance perks that will allow you to run your restaurant business so much more efficiently and profitably.
Features of our Restaurant Management Software
1. Tracking Sales
Every restaurant deals with a credit card and cash transactions. So, it is imperative that the software tracks all the business sales data, making it easy for the owner.
When the sales data is intact, you have the power to make the right decisions and smart choices. For example, you can make changes in your menu when you know which has been the best and worst selling item. Most importantly, you have an overview of the sales data that further determines the profit.
2. Inventory control
This one is a must-have feature for any business. Some food ordering systems have the option of deducting items from the inventory when the product is sold. For instance, if a steak dinner is sold, the app should subtract the steak from inventory.
This way, you know what amount of food you have and how much is required. Inventory is essential as you wish to understand your profit margins by knowing the consumption of food. All the systems should have inventory control or may require third-party integration. So, you should know what all you need for inventory management.
3. Easy Menu Setup
What will you do when you wish to make changes in the pricing? So, the third consideration is 'easy menu setup.' Menu configuration in a restaurant has to be simple and easy. No one wants the terminal or server to reboot when you want to make minor changes.
Before you pick a POS system, make sure it helps you to make adjustments in the menu quickly. If it takes a lot of time, you might have to consider looking for more options.
This goes a long way in ensuring profitability and long term success.
4. Business reporting ability
As a business owner, you don't have time to evaluate in detail how your business is performing in a particular area. The business reporting system of the management app should be flexible so that it works automatically and send alerts based on predetermined, user-defined performance indicators.
This, not also saves a lot of time but also gives access to all the operations. You can then proactively address the issues that are becoming obstacles in the path of your business growth.
5. User-Friendly System
Restaurant staffs are not only busy ones, but your customers are too. This is why your food ordering app should be easy for customers to manage.
Before relying on the online food ordering app, ask for the live demo. You will get an idea of how the interface will look like. Make sure it is straightforward and intuitive.
6. Speed
Speed is an important factor to consider. A slow system can be chaotic for everyone. The notion of speed also extends to the ease of use that has to be intuitive. No one wants that their customers have a bad impact on their business or service because it all comes down to the profitability of the enterprise.
7. Loyalty and Reward Points
When the customer orders food from the restaurant, make them feel happy and valued. Getting along with the customer is important nowadays. A clear picture of their needs, food habits, trends they are attracted to help in reaching a potential customer.
With 40% restaurant already offering some loyalty program, 57% want to love a place that offers one. You are certainly missing out a lot if your restaurant doesn't have a loyalty program in place.
Having a loyalty program means turning regular customers into loyal customers. Many restaurants don't have enough time to think about the type of loyalty program strategically.
8. Technical Support
You may have experienced a significant setback when your system is down, and the staff is unable to take orders on the phone and manage anything efficiently.
The importance of excellent support from restaurant POS can never be overstated. Protect your investment and sanity with a 24*7 support with the best food ordering app.